Check out these chinese prototype manufacturers images:
Steven F. Udvar-Hazy Center: X-35B Joint Strike Fighter, A-6E Intruder, F-4S Phantom II, Sikorsky UH-34D Seahorse, UH-1H Iroquois "Huey" Smokey III, F-105D Thunderchief, F4U-1D Corsair, P-40E, SR-71 Blackbird, et al


Image by Chris Devers
Quoting Smithsonian National Air and Space Museum | Lockheed Martin X-35B STOVL:
This aircraft is the first X-35 ever built. It was originally the X-35A and was modified to include the lift-fan engine for testing of the STOVL concept. Among its many test records, this aircraft was the first in history to achieve a short takeoff, level supersonic dash, and vertical landing in a single flight. It is also the first aircraft to fly using a shaft-driven lift-fan propulsion system. The X-35B flight test program was one of the shortest, most effective in history, lasting from June 23, 2001 to August 6, 2001.
The lift-fan propulsion system is now displayed next to the X-35B at the Steven F. Udvar-Hazy Center near Dulles Airport.
On July 7, 2006, the production model F-35 was officially named F-35 Lightning II by T. Michael Moseley, Chief of Staff USAF.
Transferred from the United States Air Force.
Date:
2001
Dimensions:
Wing span: 10.05 m (33 ft 0 in)
Length: 15.47 m (50 ft 9 in)
Height: approximately 5 m (15 ft 0 in)
Weight: approximately 35,000 lb.
Materials:
Composite material aircraft skin, alternating steel and titanium spars. Single-engine, single-seat configuration includes lift-fan and steering bars for vertical flight.
Physical Description:
Short takeoff/vertical landing variant to be used by U.S. Air Force, U.S. Marines and the United Kingdom, equipped with a shaft-driven lift fan propulsion system which enables the aircraft to take off from a short runway or small aircraft carrier and to land vertically.
Engine: Pratt & Whitney JSF 119-PW-611 turbofan deflects thrust downward for short takeoff/vertical landing capability. The Air Force and Navy versions use a thrust-vectoring exhaust nozzle. The Marine Corps and Royal Air Force/Navy version has a swivel-duct nozzle; an engine-driven fan behind the cockpit and air-reaction control valves in the wings to provide stability at low speeds.
Other major subcontractors are Rolls Royce and BAE.
• • • • •
Quoting Smithsonian National Air and Space Museum | Grumman A-6E Intruder:
The Navy's experience in the Korean War showed the need for a new long-range strike aircraft with high subsonic performance at very low altitude–an aircraft that could penetrate enemy defenses and find and destroy small targets in any weather. The Grumman A-6 Intruder was designed with these needs in mind. The Intruder first flew in 1960 and was delivered to the Navy in 1963 and the Marine Corps in 1964.
The Navy accepted this airplane as an "A" model in 1968. It served under harsh combat conditions in the skies over Vietnam and is a veteran of the 1991 Desert Storm campaign, when it flew missions during the first 72 hours of the war. It has accumulated more than 7,500 flying hours, over 6,500 landings, 767 carrier landings, and 712 catapult launches.
Transferred from the United States Navy, Office of the Secretary
Date:
1960
Country of Origin:
United States of America
Dimensions:
Overall: 16ft 2in. x 52ft 12in. x 54ft 9in., 26745.8lb. (4.928m x 16.154m x 16.688m, 12131.8kg)
Materials:
Conventional all-metal, graphite/epoxy wing (retrofit), aluminium control surfaces, titanium high-strength fittings (wing-fold).
Physical Description:
Dual place (side by side), twin-engine, all-weather attack aircraft; multiple variants.
• • • • •
Quoting Smithsonian National Air and Space Museum | McDonnell F-4S Phantom II:
The U.S. Air Force, Navy, and Marine Corps and the air forces of 12 other nations have flown the multi-role Phantom II. In this aircraft, then a Navy F-4J, on June 21, 1972, Cmdr. S. C. Flynn and his radar intercept officer, Lt. W. H. John, spotted three enemy MiG fighters off the coast of Vietnam and shot down one MiG-21 with a Sidewinder air-to-air missile. This Phantom also flew combat air patrols and bombing missions during the Linebacker II bombing campaign that same year.
Later assigned to the Marine Corps, this F-4J was extensively modernized and designated an F-4S. Changes included improving the engines (smokeless), hydraulics, electronics, and wiring; modifying the wings to increase maneuverability; and adding a radar homing and warning antenna, as well as formation tape lights on the fuselage and vertical tail.
Transferred from the United States Navy.
Manufacturer:
McDonnell Douglas Corporation
Date:
1958
Country of Origin:
United States of America
Dimensions:
Overall: 16ft 3in. x 38ft 5in. x 58ft 3in., 39999.6lb. (4.953m x 11.709m x 17.755m, 18143.7kg)
Other: 58ft 3in. x 16ft 3in. x 38ft 5in. (17.755m x 4.953m x 11.709m)
Materials:
All metal, semi-monocoque structure
Physical Description:
Twin-turbojet (J79-GE-8), two-seat (tandem) fighter / bomber. All metal, semi-monocoque structure. Cantilever, low-wing, monoplane. Dog-toothed leading edge of wing (12 degrees), anhedral tail (23 degrees).
• • • • •
Quoting Smithsonian National Air and Space Museum | Republic F-105D Thunderchief :
The F-105 was designed as a supersonic, single-seat, fighter-bomber capable of carrying nuclear weapons or heavy bomb loads at supersonic speeds. The F-105D variant was an all-weather fighter-bomber version, fitted with mono-pulse and Doppler radar for night or bad weather operations. The original weapons bay, designed for nuclear stores, was sealed and fitted with additional fuel tanks. Bombs were carried on multiple weapons racks on the centerline of the fuselage, and on wing pylons. The aircraft was fitted with a retractable in-flight refueling probe. The first F-105D flew on 9 June 1959 and 610 F-105Ds were eventually built.
This aircraft has served in several F-105 units around the world and is restored to its 1967 Vietnam-era 388th Tactical Fighter Wing, 421st Tactical Fighter Squadron camouflage as it flew during its assignment to Korat RTAB, Thailand. This jet also was briefly assigned to the 355 TFW located at Takhli RTAB in 1968. After this "Thud" finished its combat tour-which certainly included missions supporting Operation "Rolling Thunder," "Steel Tiger," and "Barrel Roll"-it returned stateside and began more than a decade assigned to the District of Columbia Air National Guard and was transferred to the Air and Space Museum in late 1981.
Transferred from the United States Air Force.
Manufacturer:
Republic Aviation Corporation
Date:
1961
Country of Origin:
United States of America
Dimensions:
Overall: 19ft 8in., 26854.8lb. (5.994m, 12181.2kg)
Other: 19ft 8in. x 64ft 5in. x 34ft 11in. (5.994m x 19.634m x 10.642m)
Materials:
All metal monoplane, supersonic single-engine jet fighter.
Physical Description:
Single-seat, single-engine, jet, fighter/bomber; USAF.
• • • • •
Beginning in 1962, the H-34 served as the primary Marine Corps assault helicopter of the Vietnam War until its replacement by the turbine-powered CH-46. It began in 1952 as a Navy anti-submarine warfare helicopter evolved from the Sikorsky S-55 series. Initially designated as the HSS-1, it would also go on to see significant service in the combat assault and utility roles with the Army and Marine Corps. Great Britain and France also deployed versions in some of the first helicopter combat assault operations.
A large payload capacity and generous center-of-gravity range made the H-34 series an effective transport helicopter for the1950s. Its weaknesses were a reciprocating engine that struggled in the heat and humidity of Southeast Asia and maintenance intensive mechanical components. This Marine Corps UH-34D never served overseas, but wears the markings of Marine Medium Helicopter Squadron 163 that did see extensive combat in Vietnam.
Transferred from the United States Marine Corps
Manufacturer:
Sikorsky Aircraft
Country of Origin:
United States of America
Physical Description:
All equipment that came with the helicopter that is not attached to it is contained in box A19750823002 with the exception of two items. The VIP steps that attach to the side of the aircraft and the long-handled tool to assist with main rotor blade deployment are stored inside the helicopter's cabin.
• • • • •
Quoting Smithsonian National Air and Space Museum | Bell UH-1H Iroquois "Huey" Smokey III:
In 1956, the Iroquois, commonly known as the Huey, first flew as an Army replacement for the H-13 medevac helicopter of Korean War fame. By the end of the 20th century, Bell had produced more Hueys than any other American military aircraft, except for the Consolidated B-24. Superbly suited to the air mobility and medical evacuation missions in Vietnam, the Huey became an indelible symbol of that conflict.
This UH-1 compiled a distinguished combat record in Vietnam from 1966 to 1970 with four units, including the 229th Assault Helicopter Battalion of the 1st Cavalry and the 118th and 128th Assault Helicopter Companies. Numerous patches on its skin attest to the ferocity of missions flown while operating as a "Smoke Ship," laying down smokescreens for air assault operations with the 11th Combat Aviation Battalion.
Transferred from the United States Army Aviation Museum
Manufacturer:
Bell Helicopter Company
Date:
1966
Country of Origin:
United States of America
Dimensions:
Rotor Diameter: 14.7 m (48 ft 3 in)
Length: 12.6 m (41 ft 5 in)
Height: 4.2 m (13 ft 7 in)
Weight, empty: 2,580 kg (5,687 lb)
Weight, gross: 4,309 kg (9,500 lb)
Materials:
Overall: Metal airframe, plexiglass windows.
Physical Description:
Utility helicopter, two-blade main and tail rotors, powered by a single GE T-53L13BA turbo-shaft engine. There are oil stains on the lower aft fuselage and beneath the tail rotor gear box. The horizontal stabilizer was removed.
Steven F. Udvar-Hazy Center: SR-71 Blackbird (tail view)


Image by Chris Devers
See more photos of this, and the Wikipedia article.
Details, quoting from Smithsonian National Air and Space Museum | Lockheed SR-71 Blackbird:
No reconnaissance aircraft in history has operated globally in more hostile airspace or with such complete impunity than the SR-71, the world's fastest jet-propelled aircraft. The Blackbird's performance and operational achievements placed it at the pinnacle of aviation technology developments during the Cold War.
This Blackbird accrued about 2,800 hours of flight time during 24 years of active service with the U.S. Air Force. On its last flight, March 6, 1990, Lt. Col. Ed Yielding and Lt. Col. Joseph Vida set a speed record by flying from Los Angeles to Washington, D.C., in 1 hour, 4 minutes, and 20 seconds, averaging 3,418 kilometers (2,124 miles) per hour. At the flight's conclusion, they landed at Washington-Dulles International Airport and turned the airplane over to the Smithsonian.
Transferred from the United States Air Force.
Manufacturer:
Lockheed Aircraft Corporation
Designer:
Clarence L. "Kelly" Johnson
Date:
1964
Country of Origin:
United States of America
Dimensions:
Overall: 18ft 5 15/16in. x 55ft 7in. x 107ft 5in., 169998.5lb. (5.638m x 16.942m x 32.741m, 77110.8kg)
Other: 18ft 5 15/16in. x 107ft 5in. x 55ft 7in. (5.638m x 32.741m x 16.942m)
Materials:
Titanium
Physical Description:
Twin-engine, two-seat, supersonic strategic reconnaissance aircraft; airframe constructed largley of titanium and its alloys; vertical tail fins are constructed of a composite (laminated plastic-type material) to reduce radar cross-section; Pratt and Whitney J58 (JT11D-20B) turbojet engines feature large inlet shock cones.
Long Description:
No reconnaissance aircraft in history has operated in more hostile airspace or with such complete impunity than the SR-71 Blackbird. It is the fastest aircraft propelled by air-breathing engines. The Blackbird's performance and operational achievements placed it at the pinnacle of aviation technology developments during the Cold War. The airplane was conceived when tensions with communist Eastern Europe reached levels approaching a full-blown crisis in the mid-1950s. U.S. military commanders desperately needed accurate assessments of Soviet worldwide military deployments, particularly near the Iron Curtain. Lockheed Aircraft Corporation's subsonic U-2 (see NASM collection) reconnaissance aircraft was an able platform but the U. S. Air Force recognized that this relatively slow aircraft was already vulnerable to Soviet interceptors. They also understood that the rapid development of surface-to-air missile systems could put U-2 pilots at grave risk. The danger proved reality when a U-2 was shot down by a surface to air missile over the Soviet Union in 1960.
Lockheed's first proposal for a new high speed, high altitude, reconnaissance aircraft, to be capable of avoiding interceptors and missiles, centered on a design propelled by liquid hydrogen. This proved to be impracticable because of considerable fuel consumption. Lockheed then reconfigured the design for conventional fuels. This was feasible and the Central Intelligence Agency (CIA), already flying the Lockheed U-2, issued a production contract for an aircraft designated the A-12. Lockheed's clandestine 'Skunk Works' division (headed by the gifted design engineer Clarence L. "Kelly" Johnson) designed the A-12 to cruise at Mach 3.2 and fly well above 18,288 m (60,000 feet). To meet these challenging requirements, Lockheed engineers overcame many daunting technical challenges. Flying more than three times the speed of sound generates 316° C (600° F) temperatures on external aircraft surfaces, which are enough to melt conventional aluminum airframes. The design team chose to make the jet's external skin of titanium alloy to which shielded the internal aluminum airframe. Two conventional, but very powerful, afterburning turbine engines propelled this remarkable aircraft. These power plants had to operate across a huge speed envelope in flight, from a takeoff speed of 334 kph (207 mph) to more than 3,540 kph (2,200 mph). To prevent supersonic shock waves from moving inside the engine intake causing flameouts, Johnson's team had to design a complex air intake and bypass system for the engines.
Skunk Works engineers also optimized the A-12 cross-section design to exhibit a low radar profile. Lockheed hoped to achieve this by carefully shaping the airframe to reflect as little transmitted radar energy (radio waves) as possible, and by application of special paint designed to absorb, rather than reflect, those waves. This treatment became one of the first applications of stealth technology, but it never completely met the design goals.
Test pilot Lou Schalk flew the single-seat A-12 on April 24, 1962, after he became airborne accidentally during high-speed taxi trials. The airplane showed great promise but it needed considerable technical refinement before the CIA could fly the first operational sortie on May 31, 1967 – a surveillance flight over North Vietnam. A-12s, flown by CIA pilots, operated as part of the Air Force's 1129th Special Activities Squadron under the "Oxcart" program. While Lockheed continued to refine the A-12, the U. S. Air Force ordered an interceptor version of the aircraft designated the YF-12A. The Skunk Works, however, proposed a "specific mission" version configured to conduct post-nuclear strike reconnaissance. This system evolved into the USAF's familiar SR-71.
Lockheed built fifteen A-12s, including a special two-seat trainer version. Two A-12s were modified to carry a special reconnaissance drone, designated D-21. The modified A-12s were redesignated M-21s. These were designed to take off with the D-21 drone, powered by a Marquart ramjet engine mounted on a pylon between the rudders. The M-21 then hauled the drone aloft and launched it at speeds high enough to ignite the drone's ramjet motor. Lockheed also built three YF-12As but this type never went into production. Two of the YF-12As crashed during testing. Only one survives and is on display at the USAF Museum in Dayton, Ohio. The aft section of one of the "written off" YF-12As which was later used along with an SR-71A static test airframe to manufacture the sole SR-71C trainer. One SR-71 was lent to NASA and designated YF-12C. Including the SR-71C and two SR-71B pilot trainers, Lockheed constructed thirty-two Blackbirds. The first SR-71 flew on December 22, 1964. Because of extreme operational costs, military strategists decided that the more capable USAF SR-71s should replace the CIA's A-12s. These were retired in 1968 after only one year of operational missions, mostly over southeast Asia. The Air Force's 1st Strategic Reconnaissance Squadron (part of the 9th Strategic Reconnaissance Wing) took over the missions, flying the SR-71 beginning in the spring of 1968.
After the Air Force began to operate the SR-71, it acquired the official name Blackbird– for the special black paint that covered the airplane. This paint was formulated to absorb radar signals, to radiate some of the tremendous airframe heat generated by air friction, and to camouflage the aircraft against the dark sky at high altitudes.
Experience gained from the A-12 program convinced the Air Force that flying the SR-71 safely required two crew members, a pilot and a Reconnaissance Systems Officer (RSO). The RSO operated with the wide array of monitoring and defensive systems installed on the airplane. This equipment included a sophisticated Electronic Counter Measures (ECM) system that could jam most acquisition and targeting radar. In addition to an array of advanced, high-resolution cameras, the aircraft could also carry equipment designed to record the strength, frequency, and wavelength of signals emitted by communications and sensor devices such as radar. The SR-71 was designed to fly deep into hostile territory, avoiding interception with its tremendous speed and high altitude. It could operate safely at a maximum speed of Mach 3.3 at an altitude more than sixteen miles, or 25,908 m (85,000 ft), above the earth. The crew had to wear pressure suits similar to those worn by astronauts. These suits were required to protect the crew in the event of sudden cabin pressure loss while at operating altitudes.
To climb and cruise at supersonic speeds, the Blackbird's Pratt & Whitney J-58 engines were designed to operate continuously in afterburner. While this would appear to dictate high fuel flows, the Blackbird actually achieved its best "gas mileage," in terms of air nautical miles per pound of fuel burned, during the Mach 3+ cruise. A typical Blackbird reconnaissance flight might require several aerial refueling operations from an airborne tanker. Each time the SR-71 refueled, the crew had to descend to the tanker's altitude, usually about 6,000 m to 9,000 m (20,000 to 30,000 ft), and slow the airplane to subsonic speeds. As velocity decreased, so did frictional heat. This cooling effect caused the aircraft's skin panels to shrink considerably, and those covering the fuel tanks contracted so much that fuel leaked, forming a distinctive vapor trail as the tanker topped off the Blackbird. As soon as the tanks were filled, the jet's crew disconnected from the tanker, relit the afterburners, and again climbed to high altitude.
Air Force pilots flew the SR-71 from Kadena AB, Japan, throughout its operational career but other bases hosted Blackbird operations, too. The 9th SRW occasionally deployed from Beale AFB, California, to other locations to carryout operational missions. Cuban missions were flown directly from Beale. The SR-71 did not begin to operate in Europe until 1974, and then only temporarily. In 1982, when the U.S. Air Force based two aircraft at Royal Air Force Base Mildenhall to fly monitoring mission in Eastern Europe.
When the SR-71 became operational, orbiting reconnaissance satellites had already replaced manned aircraft to gather intelligence from sites deep within Soviet territory. Satellites could not cover every geopolitical hotspot so the Blackbird remained a vital tool for global intelligence gathering. On many occasions, pilots and RSOs flying the SR-71 provided information that proved vital in formulating successful U. S. foreign policy. Blackbird crews provided important intelligence about the 1973 Yom Kippur War, the Israeli invasion of Lebanon and its aftermath, and pre- and post-strike imagery of the 1986 raid conducted by American air forces on Libya. In 1987, Kadena-based SR-71 crews flew a number of missions over the Persian Gulf, revealing Iranian Silkworm missile batteries that threatened commercial shipping and American escort vessels.
As the performance of space-based surveillance systems grew, along with the effectiveness of ground-based air defense networks, the Air Force started to lose enthusiasm for the expensive program and the 9th SRW ceased SR-71 operations in January 1990. Despite protests by military leaders, Congress revived the program in 1995. Continued wrangling over operating budgets, however, soon led to final termination. The National Aeronautics and Space Administration retained two SR-71As and the one SR-71B for high-speed research projects and flew these airplanes until 1999.
On March 6, 1990, the service career of one Lockheed SR-71A Blackbird ended with a record-setting flight. This special airplane bore Air Force serial number 64-17972. Lt. Col. Ed Yeilding and his RSO, Lieutenant Colonel Joseph Vida, flew this aircraft from Los Angeles to Washington D.C. in 1 hour, 4 minutes, and 20 seconds, averaging a speed of 3,418 kph (2,124 mph). At the conclusion of the flight, '972 landed at Dulles International Airport and taxied into the custody of the Smithsonian's National Air and Space Museum. At that time, Lt. Col. Vida had logged 1,392.7 hours of flight time in Blackbirds, more than that of any other crewman.
This particular SR-71 was also flown by Tom Alison, a former National Air and Space Museum's Chief of Collections Management. Flying with Detachment 1 at Kadena Air Force Base, Okinawa, Alison logged more than a dozen '972 operational sorties. The aircraft spent twenty-four years in active Air Force service and accrued a total of 2,801.1 hours of flight time.
Wingspan: 55'7"
Length: 107'5"
Height: 18'6"
Weight: 170,000 Lbs
Reference and Further Reading:
Crickmore, Paul F. Lockheed SR-71: The Secret Missions Exposed. Oxford: Osprey Publishing, 1996.
Francillon, Rene J. Lockheed Aircraft Since 1913. Annapolis, Md.: Naval Institute Press, 1987.
Johnson, Clarence L. Kelly: More Than My Share of It All. Washington D.C.: Smithsonian Institution Press, 1985.
Miller, Jay. Lockheed Martin's Skunk Works. Leicester, U.K.: Midland Counties Publishing Ltd., 1995.
Lockheed SR-71 Blackbird curatorial file, Aeronautics Division, National Air and Space Museum.
DAD, 11-11-01
Steven F. Udvar-Hazy Center: P-40 Warhawk with "sharktooth" nose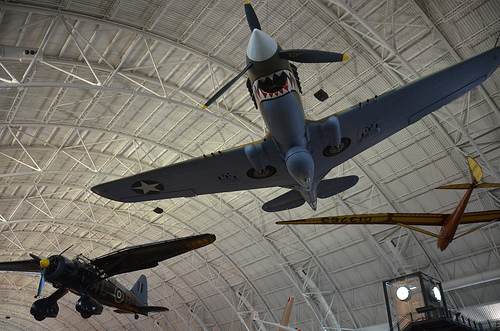 Image by Chris Devers
See more photos of this, and the Wikipedia article.
Details, quoting from Smithsonian National Air and Space Museum | Curtiss P-40E Warhawk (Kittyhawk IA):
Whether known as the Warhawk, Tomahawk, or Kittyhawk, the Curtiss P-40 proved to be a successful, versatile fighter during the first half of World War II. The shark-mouthed Tomahawks that Gen. Claire Chennault's "Flying Tigers" flew in China against the Japanese remain among the most popular airplanes of the war. P-40E pilot Lt. Boyd D. Wagner became the first American ace of World War II when he shot down six Japanese aircraft in the Philippines in mid-December 1941.
Curtiss-Wright built this airplane as Model 87-A3 and delivered it to Canada as a Kittyhawk I in 1941. It served until 1946 in No. 111 Squadron, Royal Canadian Air Force. U.S. Air Force personnel at Andrews Air Force Base restored it in 1975 to represent an aircraft of the 75th Fighter Squadron, 23rd Fighter Group, 14th Air Force.
Donated by the Exchange Club in Memory of Kellis Forbes.
Manufacturer:
Curtiss Aircraft Company
Date:
1939
Country of Origin:
United States of America
Dimensions:
Overall: 330 x 970cm, 2686kg, 1140cm (10ft 9 15/16in. x 31ft 9 7/8in., 5921.6lb., 37ft 4 13/16in.)
Materials:
All-metal, semi-monocoque
Physical Description:
Single engine, single seat, fighter aircraft.
Long Description:
Whether it was the Tomahawk, Warhawk, or Kittyhawk, the Curtiss P-40 was a successful and versatile fighter aircraft during the first half of World War II. The shark-mouthed Tomahawks that General Claire Chennault led against the Japanese remain among the most popular airplanes of the war. In the Phillipines, Lt. Boyd D. Wagner became the first American ace of World War II while flying a P-40E when he shot down six Japanese aircraft during mid-December 1941. P-40s were first-line Army Air Corps fighters at the start of the war but they soon gave way to more advanced designs such as the Republic P-47 Thunderbolt and the Lockheed P-38 Lightning (see NASM collection for both aircraft). The P-40 is not ranked among the best overall fighters of the war but it was a rugged, effective design available in large numbers early in the war when America and her allies urgently required them. The P-40 remained in production from 1939 to the end of 1944 and a total of 13, 737 were built.
Design engineer Dr. Donovan R. Berlin layed the foundation for the P-40 in 1935 when he designed the agile, but lightly-armed, P-36 fighter equipped with a radial, air-cooled engine. The Curtiss-Wright Corporation won a production contract for 210 P-36 airplanes in 1937-the largest Army airplane contract awarded since World War I. Worldwide, fighter aircraft designs matured rapidly during the late 1930s and it was soon obvious that the P-36 was no match for newer European designs. High altitude performance in particular became a priceless commodity. Berlin attempted to improve the P-36 by redesigning it in to accommodate a turbo-supercharged Allison V-1710-11 inline, liquid-cooled engine. The new aircraft was designated the XP-37 but proved unpopular with pilots. The turbo-supercharger was not reliable and Berlin had placed the cockpit too far back on the fuselage, restricting the view to the front of the fighter. Nonetheless, when the engine was not giving trouble, the more-streamlined XP-37 was much faster than the P-36.
Curtiss tried again in 1938. Berlin had modified another P-36 with a new Allison V-1710-19 engine. It was designated the XP-40 and first flew on October 14, 1938. The XP-40 looked promising and Curtiss offered it to Army Air Corps leaders who evaluated the airplane at Wright Field, Ohio, in 1939, along with several other fighter proposals. The P-40 won the competition, after some modifications, and Curtiss received an order for 540. At this time, the armament package consisted of two .50 caliber machine guns in the fuselage and four .30 caliber machine guns in the wings.
After production began in March 1940, France ordered 140 P-40s but the British took delivery of these airplanes when Paris surrendered. The British named the aircraft Tomahawks but found they performed poorly in high-altitude combat over northern Europe and relegated them to low-altitude operations in North Africa. The Russians bought more than 2,000 P-40s but details of their operational history remain obscure.
When the United States declared war, P-40s equipped many of the Army Air Corps's front line fighter units. The plucky fighter eventually saw combat in almost every theater of operations being the most effective in the China-Burma-India (CBI) Theater. Of all the CBI groups that gained the most notoriety of the entire war, and remains to this day synonymous with the P-40, is the American Volunteer Group (AVG) or the Flying Tigers. The unit was organized after the Chinese gave former U. S. Army Air Corps Captain Claire Lee Chennault almost 9 million dollars in 1940 to buy aircraft and recruit pilots to fly against the Japanese. Chennault's most important support within the Chinese government came from Madam Chiang Kai-shek, a Lt. Colonel in the Chinese Air Force and for a time, the service's overall commander.
The money from China diverted an order placed by the British Royal Air Force for 100 Curtiss-Wright P-40B Tomahawks but buying airplanes was only one important step in creating a fighting air unit. Trained pilots were needed, and quickly, as tensions across the Pacific escalated. On April 15, 1941, President Franklin D. Roosevelt quietly signed an Executive Order permitting Chennault to recruit directly from the ranks of American military reserve pilots. Within a few months, 350 flyers joined from pursuit (fighter), bomber, and patrol squadrons. In all, about half the pilots in the Flying Tigers came from the U. S. Navy and Marine Corps while the Army Air Corps supplied one-third. Factory test pilots at Bell, Consolidated, and other companies, and commercial airline pilots, filled the remaining slots.
The Flying Tigers flew their first mission on December 20. The unit's name was derived from the ferocious fangs and teeth painted on the nose of AVG P-40s at either side of the distinctive, large radiator air intake. The idea is said to originate from pictures in a magazine that showed Royal Air Force Tomahawks of No. 112 Squadron, operating in the western desert of North Africa, adorned with fangs and teeth painted around their air intakes. The Flying Tigers were the first real opposition the Japanese military encountered. In less than 7 months of action, AVG pilots destroyed about 115 Japanese aircraft and lost only 11 planes in air-to-air combat. The AVG disbanded on July 4, 1942, and its assets, including a few pilots, became a part of the U. S. Army Air Forces (AAF) 23rd Fighter Group in the newly activated 14th Air Force. Chennault, now a Brigadier General, assumed command of the 14th AF and by war's end, the 23rd was one of the highest-scoring Army fighter groups.
As wartime experience in the P-40 mounted, Curtiss made many modifications. Engineers added armor plate, better self-sealing fuel tanks, and more powerful engines. They modified the cockpit to improve visibility and changed the armament package to six, wing-mounted, .50 caliber machine guns. The P-40E Kittyhawk was the first model with this gun package and it entered service in time to serve in the AVG. The last model produced in quantity was the P-40N, the lightest P-40 built in quantity, and much faster than previous models. Curtiss built a single P-40Q. It was the fastest P-40 to fly (679 kph/422 mph) but it could not match the performance of the P-47 Thunderbolt and the P-51 Mustang so Curtiss ended development of the P-40 series with this model. In addition to the AAF, many Allied nations bought and flew P-40s including England, France, China, Russia, Australia, New Zealand, Canada, South Africa, and Turkey.
The Smithsonian P-40E did not serve in the U. S. military. Curtiss-Wright built it in Buffalo, New York, as Model 87-A3 and delivered it to Canada as a Kittyhawk IA on March 11, 1941. It served in No. 111 Squadron, Royal Canadian Air Force (RCAF). When the Japanese navy moved to attack Midway, they sent a diversionary battle group to menace the Aleutian Islands. Canada moved No. 111 Squadron to Alaska to help defend the region. After the Japanese threat diminished, the unit returned to Canada and eventually transferred to England without its P-40s. The RCAF declared the NASM Kittyhawk IA surplus on July 27, 1946, and the aircraft eventually returned to the United States. It had several owners before ending up with the Explorer Scouts youth group in Meridian, Mississippi. During the early 1960s, the Smithsonian began searching for a P-40 with a documented history of service in the AVG but found none. In 1964, the Exchange Club in Meridian donated the Kittyhawk IA to the National Aeronautical Collection, in memory of Mr. Kellis Forbes, a local man devoted to Boys Club activities. A U. S. Air Force Reserve crew airlifted the fighter to Andrews Air Force Base, Maryland, on March 13, 1964. Andrews personnel restored the airplane in 1975 and painted it to represent an aircraft of the 75th Fighter Squadron, 23rd Fighter Group, 14th Air Force.
• • •
Quoting from Wikipedia | Curtiss P-40 Warhawk:
The Curtiss P-40 Warhawk was an American single-engine, single-seat, all-metal fighter and ground attack aircraft that first flew in 1938. It was used by the air forces of 28 nations, including those of most Allied powers during World War II, and remained in front line service until the end of the war. It was the third most-produced American fighter, after the P-51 and P-47; by November 1944, when production of the P-40 ceased, 13,738 had been built, all at Curtiss-Wright Corporation's main production facility at Buffalo, New York.
The P-40 design was a modification of the previous Curtiss P-36; this reduced development time and enabled a rapid entry into production and operational service.
Warhawk was the name the United States Army Air Corps adopted for all models, making it the official name in the United States for all P-40s. The British Commonwealth and Soviet air forces used the name Tomahawk for models equivalent to the P-40B and P-40C, and the name Kittyhawk for models equivalent to the P-40D and all later variants.
The P-40's lack of a two-stage supercharger made it inferior to Luftwaffe fighters such as the Messerschmitt Bf 109 or the Focke-Wulf Fw 190 in high-altitude combat and it was rarely used in operations in Northwest Europe. Between 1941 and 1944, however, the P-40 played a critical role with Allied air forces in three major theaters: North Africa, the Southwest Pacific and China. It also had a significant role in the Middle East, Southeast Asia, Eastern Europe, Alaska and Italy. The P-40's performance at high altitudes was not as critical in those theaters, where it served as an air superiority fighter, bomber escort and fighter bomber.
P-40s first saw combat with the British Commonwealth squadrons of the Desert Air Force (DAF) in the Middle East and North African campaigns, during June 1941. The Royal Air Force's No. 112 Squadron was among the first to operate Tomahawks, in North Africa, and the unit was the first to feature the "shark mouth" logo, copying similar markings on some Luftwaffe Messerschmitt Bf 110 twin-engine fighters. [N 1]
Although it gained a post-war reputation as a mediocre design, suitable only for close air support, more recent research including scrutiny of the records of individual Allied squadrons indicates that the P-40 performed surprisingly well as an air superiority fighter, at times suffering severe losses, but also taking a very heavy toll on enemy aircraft. The P-40 offered the additional advantage of low cost, which kept it in production as a ground-attack fighter long after it was obsolete in the air superiority role.
As of 2008, 19 P-40s were airworthy.