Some cool prototype factory in china images:
Steven F. Udvar-Hazy Center: Lockheed SR-71 Blackbird port panorama (Bowlus 1-S-2100 Senior Albatross "Falcon" & Boeing P-26A Peashooter overhead)


Image by Chris Devers
See more photos of this, and the Wikipedia article.
Details, quoting from Smithsonian National Air and Space Museum | Bowlus 1-S-2100 Senior Albatross "Falcon"
Hawley Bowlus developed the Senior Albatross series from a design he called the Bowlus Super Sailplane. In Germany, designers and pilots led the world in the building and flying of high-performance gliders, and Bowlus was strongly influenced by their work. He and German glider pioneer, Martin Schempp, taught courses in aircraft design and construction at the Curtiss-Wright Technical Institute in Glendale, California. The two instructors led a group of students that built the Super Sailplane in 1932. The Super' served as a prototype for the Senior Albatross.
In May 1934, Warren E. Eaton acquired the Senior Albatross now preserved at NASM from Hawley Bowlus. Eaton joined the U. S. Army Air Service and flew SPAD XIII fighters (see NASM collection) in the 103rd Aero Squadron, 3rd Pursuit Group, at Issoudon, France, from August 27, 1918, to the Armistice. He was credited with downing one enemy aircraft in aerial combat. After the war, Eaton founded the Soaring Society of America and became that organization's first president.
Gift of Mrs. Genevieve J. Eaton.
Manufacturer:
Bowlus-Dupont Sailplane Company
Date:
1933
Country of Origin:
United States of America
Dimensions:
Wingspan: 18.8 m (61 ft 9 in)
Length: 7.2 m (23 ft 7 in)
Height: 1.6 m (5 ft 4 in)
Weight: Empty, 153 kg (340 lb) Gross, 236 kg (520 lb)
Materials:
Originally skinned with mahogany and covered with lightweight cotton "glider cloth," then covered with a shellac-based varnish. In 2000, restorers removed original fabric and shellac coating, recovered with Grade A cotton fabric followed by several coats of nitrate dope, then lemon shellac, finishing with several coats of Johnson Wax.
Physical Description:
Monoplane glider with strut-braced, gull-type wing mounted high on monocoque fuselage; wooden construction with steel and aluminum fittings and controls; fuselage and wing leading edge covered with mahogany plywood. Fuselage skin applied over laminated Spruce bulkheads. Landing gear consists of single-wheel and …. [size?] tire mounted beneath forward fuselage, spring-steel tail skid beneath rudder.
Cockpit covered with hood made from laminated Spruce bulkheads and covered with Mahogany plywood. Circular openings cut into hood on either side of pilot's head. Instrumentation: altimeter, airspeed, variometer plus a bank-and-turn indicator powered by low-speed venturi tube installed on retractable mount beneath right wingroot.
Areas aft of wing spar and all control surfaces covered with glider cloth. Cloth is doped directly onto ribs and plywood skin without stitching for smooth finish. Constant-chord wing from fuselage to mid-span, tapered profile from mid-span to wingtip; constant-chord,
split-trailing edge flaps and high-aspect ratio ailerons. A Gö 549 airfoil is used at the wing root, becoming symmetrical at the tip.
All-flying elevator mounted on duraluminum torque-tube, rudder hinged to box-beam post, both surfaces built up from Spruce and covered with glider cloth.
Long Description:
Long before he designed and built the Bowlus-DuPont "Falcon," William Hawley Bowlus had contributed to aviation history. In 1926, T. Claude Ryan hired him as factory manager at the Ryan Airlines, Inc., plant at San Diego, California. Late in February 1927, Bowlus and twenty Ryan workmen, supervised by chief engineer Donald A. Hall and Charles A. Lindbergh, built a long-range monoplane based on the Ryan M-2. Lindbergh christened the modified M-2 the "Spirit of St. Louis." It is said that Bowlus suggested several design features that Lindbergh approved and incorporated in the finished airplane. Bowlus renewed his friendship with Lindbergh late in 1929. He taught the ocean flyer and his wife, Anne Morrow, to fly sailplanes and in January 1930, both Charles and Anne completed their first solo glider flights.
Hawley Bowlus developed the Senior Albatross series from a design that he called the Bowlus Super Sailplane. In Germany, designers and pilots led the world in building and flying high-performance gliders and Bowlus was strongly influenced by their work. He and German glider pioneer, Martin Schempp, taught courses in aircraft design and construction at the Curtiss-Wright Technical Institute in Glendale, California. The two instructors led a group of students who built the Super Sailplane in 1932. The Super Sailplane served as a prototype for the Senior Albatross. The wing of the Super was nearly a copy of the German "Wein" sailplane designed and flown with great success in 1930 and 1931 by Robert Kronfeld. Both gliders employed the same Goettingen 549 wing airfoil and even the tips of the control surfaces curved to almost identical contours. When Bowlus built the Senior Albatross series, the cockpit enclosure closely resembled another record-setting and influential German sailplane, the "Fafnir," designed by Alexander Lippisch specifically for pilot Gunther Groenhoff.
Richard C. du Pont was also an important character in the history of the Senior Albatross. By the time he finished high school, this heir to the Delaware-based chemical empire could fly gliders with some skill. During his first year at the University of Virginia, he founded a campus soaring club. His passion for motorless flight drew him farther away from traditional academics and in 1932, he transferred to the Curtiss-Wright Technical Institute. Du Pont was probably among the students who built the Super Albatross.
In 1933, du Pont teamed with Hawley Bowlus and the two men set up shop in San Fernando, California, to build gliders. Bowlus furnished the design expertise and performed much of the construction. Du Pont supplied enthusiasm, labor, and financing. The Bowlus-DuPont Sailplane Company became an official entity in 1934 not in California, but in Delaware. The firm folded in September 1936 but during its short corporate life, the small factory built four examples of the Senior Albatross but no two were constructed exactly alike. All four sailplanes did have 'gull' wings (each wing was bent down slightly at about mid-span) and this feature differentiates these airplanes from the prototype Super Sailplane. Bowlus fitted two with wing flaps, rather than spoilers, for better speed and altitude control during landing. Mahogany plywood skinned one and spruce plywood covered the other three aircraft. Bowlus sold each of these handcrafted airplanes for ,500.
In 1935, Hawley Bowlus began work on a two-seat Senior Albatross built from aluminum but other distractions delayed completion until 1940. In 1939, Ernest Langley and Jim Gough built another Senior Albatross at the Bowlus ranch in California.
Performance calculations revealed a best glide ratio of 23:1 when flying at 64.4 kph (40 mph). If it became necessary, the pilot of a Senior Albatross could push his mount well over 161 kph (100 mph) as long as he never exceeded a speed of 241.5 kph (150 mph). With an accomplished pilot at the controls, the Senior Albatross could fly better than any American airplane without a motor and they were very pleasing to look at too. A quotation from the July 1934 issue of "Aviation," a popular periodical, sums up one writer's impressions of the Bowlus-Du Pont Senior Albatross:
"Few flying machines have ever exhibited such an extraordinary combination of workmanship, finish, and aerodynamic refinement, so that it seems quite safe to say that the new ships represent the ultimate in soaring design practice in the United States, if not the world."
The pilots who flew the Senior Albatross nearly dominated American competitive soaring. In 1933, Richard du Pont flew the first Senior Albatross at the fourth U. S. National Soaring Championships held at Elmira, New York. On September 21, du Pont set the American sailplane distance record by flying 196 km (121.6 miles). On June 25, 1934, he flew to within 3.2 km (2 miles) of New York City and established a new world distance record of 254 km (158 miles). On June 30, 1934, du Pont set the U. S. altitude record for sailplanes by climbing to 1,892 m (6,223 ft). The following year, Lewin Barringer soared his Senior Albatross parallel to the ridges of the Allegheny Mountains for 250.3 km (155.5 miles).
In May 1934, Warren E. Eaton acquired from Hawley Bowlus the Senior Albatross that is now preserved at NASM. Eaton was already a veteran aviator. He had joined the U. S. Army Air Service and flew SPAD XIII fighters (see NASM collection) in the 103rd Aero Squadron, 3rd Pursuit Group, at Issoudon, France, from August 27, 1918, until Armistice Day, November 11. He was credited with downing one enemy aircraft in aerial combat. After the war, Eaton founded the Soaring Society of America and became that organization's first president.
Eaton had commissioned Bowlus to build this glider after he saw Richard C. du Pont fly the second Senior Albatross at the U. S. Nationals the year before. Eaton's ordered flaps for his aircraft and it was the only Senior Albatross skinned with mahogany plywood. He christened it "Falcon" and it bore the federal aircraft registration number G13763. Several gold decals edged in black also appeared at various locations on the fuselage. "Warren E. Eaton" and "Falcon" appeared on both sides of the nose. A stylized albatross and the company motto "On the Wings of an Albatross" were applied to the vertical fin above the words "Bowlus-Du Pont Sailplane Company."
Eaton first flew the glider at San Diego. In June, he brought it to the national contest at Harris Hill, New York. At Big Meadows, Virginia, Eaton set the American soaring altitude record, 2,765 m (9,094 ft), during September 1934. Three months later, Eaton died in Florida flying a Franklin p glider.
In 1935, Warren Eaton's widow, Genevieve, donated the "Falcon" to the Smithsonian Institution. It arrived in Washington on May 28 and a few days later, museum personnel suspended the glider from the ceiling of the West Hall of the Arts and Industries Building where it remained on display for many years.
• • • • •
Quoting Smithsonian National Air and Space Museum | Boeing P-26A Peashooter:
The Boeing P-26A of the mid-to-late 1930s introduced the concept of the high-performance, all-metal monoplane fighter design, which would become standard during World War II. A radical departure from wood-and-fabric biplanes, the Peashooter nonetheless retained an open cockpit, fixed landing gear, and external wing bracing.
Most P-26As stationed overseas were eventually sold to the Philippines or assigned to the Panama Canal Department Air Force, a branch of the U.S. Army Air Corps. Several went to China and one to Spain. This one was based at Selfridge Field in Michigan and Fairfield Air Depot in Ohio between its acceptance by the U.S. Army Air Corps in 1934 and its transfer to the Canal Zone in 1938. It was given to Guatemala in 1942 and flew in the Guatemalan air force until 1954. Guatemala donated it to the Smithsonian in 1957.
Gift of the Guatemalan Air Force, Republic of Guatemala
Manufacturer:
Boeing Aircraft Co.
Date:
1934
Country of Origin:
United States of America
Dimensions:
Wingspan: 8.5 m (27 ft 11 in)
Length:7.3 m (23 ft 11 in)
Height:3.1 m (10 ft 2 in)
Weight, empty:996 kg (2,196 lb)
Weight, gross:1,334 kg (2,935 lb)
Top speed:377 km/h (234 mph)
Engine:Pratt & Whitney R-1340-27, 600 hp
Armament:two .30 cal. M2 Browning aircraft machine guns
• • • • •
See more photos of this, and the Wikipedia article.
Details, quoting from Smithsonian National Air and Space Museum | Lockheed SR-71 Blackbird:
No reconnaissance aircraft in history has operated globally in more hostile airspace or with such complete impunity than the SR-71, the world's fastest jet-propelled aircraft. The Blackbird's performance and operational achievements placed it at the pinnacle of aviation technology developments during the Cold War.
This Blackbird accrued about 2,800 hours of flight time during 24 years of active service with the U.S. Air Force. On its last flight, March 6, 1990, Lt. Col. Ed Yielding and Lt. Col. Joseph Vida set a speed record by flying from Los Angeles to Washington, D.C., in 1 hour, 4 minutes, and 20 seconds, averaging 3,418 kilometers (2,124 miles) per hour. At the flight's conclusion, they landed at Washington-Dulles International Airport and turned the airplane over to the Smithsonian.
Transferred from the United States Air Force.
Manufacturer:
Lockheed Aircraft Corporation
Designer:
Clarence L. "Kelly" Johnson
Date:
1964
Country of Origin:
United States of America
Dimensions:
Overall: 18ft 5 15/16in. x 55ft 7in. x 107ft 5in., 169998.5lb. (5.638m x 16.942m x 32.741m, 77110.8kg)
Other: 18ft 5 15/16in. x 107ft 5in. x 55ft 7in. (5.638m x 32.741m x 16.942m)
Materials:
Titanium
Physical Description:
Twin-engine, two-seat, supersonic strategic reconnaissance aircraft; airframe constructed largley of titanium and its alloys; vertical tail fins are constructed of a composite (laminated plastic-type material) to reduce radar cross-section; Pratt and Whitney J58 (JT11D-20B) turbojet engines feature large inlet shock cones.
The Soviet WWII Ground-Attack Aircraft Ilyushin Il-10 'Shturmovik'. Советский штурмовик Ил-10.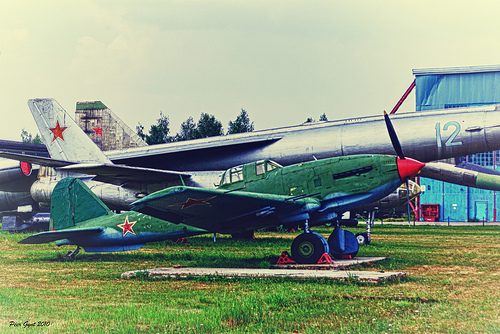 Image by Peer.Gynt
The Central AirForce Museim, Monino.
Ilyushin Il-10 (Cyrillic Илью́шин Ил-10, NATO reporting name: "Beast") was a Soviet ground attack aircraft developed at the end of World War II by the Ilyushin construction bureau. It was also license-built in Czechoslovakia by Avia as the Avia B-33.
Development
From the start of Eastern Front combat in World War II, the Soviet Air Force (VVS) used the successful ground attack aircraft Ilyushin Il-2 Sturmovik, powered by the Mikulin AM-38 inline engine. As the war progressed, the Soviets laid plans for that aircraft's successor. The main goal was to increase speed and maneuverability at low altitudes, mainly to evade small-caliber anti-aircraft artillery, which was the main threat for ground attack aircraft, and to remove some of the Il-2's faults. The most promising project was a modern, light and maneuverable close assault aircraft, the Sukhoi Su-6, developed by Pavel Sukhoi's bureau from 1942. At the same time, Sergei Ilyushin developed a heavier aircraft, the VSh or Il-8 M-71, derived from the Il-2 design, and on which it was partly based. Both projects were powered by the prototype M-71 radial engine, which did not enter production.
In 1943, Ilyushin started work on a new aircraft, Il-1, which was to be a 1- or 2-seat heavily armoured fighter-interceptor, meant mainly for fighting enemy bombers and transports. The Il-1 was similar to the Il-2 design, but was more modern, compact, and powered with a new Mikulin engine: the AM-42. But the VVS gave up the idea of heavy armoured fighters, due to their low speed, which was not enough to intercept modern bombers. As a result, Ilyushin decided to turn the Il-1 into a two-seat ground attack plane, with the designation changed to Il-10 in early 1944 (odd numbers were reserved for fighters).
At that time, Ilyushin also finished a prototype of a heavier ground attack plane, the Il-8, using the same engine, and more closely derived from the Il-2. It carried a higher payload (1,000 kg/2,204 lb), but had lower performance than the Il-10. Both types first flew in April 1944, the Il-10 proving greatly superior to the Il-8, which had poor handling. The Il-10 successfully passed trials in early June 1944.
The third competitor was a new variant of the Sukhoi Su-6, also powered by the AM-42 engine. After comparative tests, the Il-10 was considered the winner and was chosen as the new ground attack plane, despite some opinions that the Su-6 was a better aircraft, notwithstanding inferior performance and payload, with better gun armament. Notably, the Su-6 prototype was tested with maximum payload, causing lowered performance, while the Il-10 was tested with normal payload. Some advantages of the Il-10 came from its technical similarity to the Il-2.
On 23 August 1944 the Il-10 was ordered into serial production by decision of the State Defense Committee (GKO) as a new ground attack plane.[5] Its armament was initially similar to late model Il-2s, with two 23 mm VYa-23 cannons and two ShKAS machine guns in the wings, and a 12.7 mm UBT machine gun for a rear gunner, and 400 kg, or a maximum 600 kg of bombs. Unlike the Il-2 and Su-6, it was not initially meant to carry rockets.
Production of the Il-10 started in Kuybyshev's factories No. 1 and No. 18. The first production aircraft flew on 27 September 1944 and 99 aircraft were produced by the end of 1944. Early series aircraft showed teething problems, most notably engine faults and fires. Most problems were eliminated by 1945. Aircraft produced from April 1945 onwards could carry four unguided air-to ground rockets. Aircraft produced from 1947 onwards were fitted with stronger armament, consisting of four 23 mm NS-23 cannons in the wings and a 20 mm cannon for the rear gunner. Il-10 production ended in 1949, after a run of 4,600 aircraft; in the last two years, they were produced in factory No. 64.
Between 1945 and 1947, 280 UIl-2 or Il-10U trainer variants were produced. The rear gunner' cockpit was replaced with a longer instructor's cockpit with dual controls. Its performance and construction were similar to the combat variant apart from armament, which was reduced to two cannons, two rockets, and a standard load of bombs.
In 1951, the Czechoslovak firm Avia secured a license to make Il-10s, with the designation B-33. The first one flew on 26 December 1951. Initially, their engines were Soviet-built. From 1952 onwards the engines were also produced in Czechoslovakia as the M-42. Besides the combat variant, a Czechoslovak trainer variant also entered service under the designation CB-33. In total, 1,200 B-33s were built by 1956.
In 1951, due to experience acquired during the Korean War, the Soviet Air Force decided that propeller ground attack aircraft might still be useful, and decided to renew Il-10 production in a modified variant, the Il-10M, which first flew on 2 July 1951. It was a bit longer, with a wider wingspan, and larger control surfaces, with a fin under the tail. Four of the more recently developed NR-23 cannons were mounted in the wings, while the payload stayed the same, and newer navigation equipment was installed, giving partial all-weather capability. Speed decreased slightly, but handling improved. Between 1953 and 1954, 146 Il-10Ms were made, all but 10 in Rostov-on-Don's factory No.168.
In total, 6,166 of all Il-10 variants were made, including those built under license.
Trials of Il-10s mounted with more powerful AM-43 and AM-45 engines took place, but proved unsuccessful. Ilyushin next designed a lighter close support aircraft, the Il-16, with improved performance and similar armament. It first flew on 10 June 1945. A short run entered production, but the project was cancelled in 1946 due to the AM-43 engine's unreliability.
Technical description
The airframe featured one engine, two-seat, monoplane, with a metal-covered frame. The plane was highly armoured. The front part of the fuselage, with the cockpit, was a shell of armour plates 4–8 mm thick; the thickest, 8 mm, were under the engine, there was no armour above the engine. The front windshield was made of armour glass 64 mm (2.5 in) thick. Also armoured was: a roof above the pilot, side window frames in the pilot's cab, a wall between crew seats, and a rear wall behind the cab. Total armour weight was 994 kg, including its attachment. The wing consisted of a central section, with two bomb bays, and two detachable outer panels. The undercarriage was retractable. The main wheels folded to the rear after rotating by 86°.
Early Il-10s had two 23 mm VYa-23 autocannons (150 rounds each) and 2 7.62 mm ShKAS machine guns (750 rounds each) fixed in wings, and a 12.7 mm UBT machine gun in a rear gunner station BU-8, with 150 rounds. The horizontal angle of the rear machine gun field of fire was 100°. From 1947, the aircraft were armed with four NS-23 23 mm cannons in the wings (150 rounds each) and 20 mm B-20T cannon in a rear gunner station BU-9 (150 rounds). The IL-10M had four 23 mm NR-23 cannons in wings (150 rounds each) and 20 mm B-20EN cannon in a rear gunner station BU-9M (150 rounds). Avia B-33 had four 23 mm NS-23RM cannons in wings and 20 mm B-20ET cannon in a rear gunner station BU-9M.
The normal bomb load was 400 kg, maximum load was 600 kg. This could be small fragmentation or anti-tank bomblets, put in bomb bays, or four 50–100 kg bombs in bomb bays and externally under wings, or two 200–250 kg bombs attached under wings. Small bomblets were put directly on bomb bay floors, in piles. A typical load was 182 (maximum 200) 2 kg AO-2,5-2 fragmentation bombs, or 144 PTAB-2,5-1,5 anti-tnk HEAT bombs. Apart from bombs, four unguided rockets RS-82 or RS-132 could be carried on rail launchers under wings. Avia B-33s were also fitted to carry other rocket types. Late Soviet aircraft could carry ORO-82 and ORO-132 tube launchers. In the tail section was a DAG-10 launcher with 10 anti-aircraft or anti-personnel grenades AG-2 (after being thrown, they would fall with parachutes and then burst, but were not widely used in practice).
The Il-10 engine was a 12-cylinder inline V engine Mikulin AM-42, liquid-cooled, power: 1,770 hp continuous, takeoff power: 2,000 hp. Three-blade propeller AV-5L-24 of 3.6 m diameter. Two fuel tanks in the fuselage: upper 440 l over engine, ahead of the cockpit, and lower tank of 290 l under the cockpit. The aircraft had a radio set and a camera AFA-1M in a rear section of the fuselage.
Operational history
In October 1944, the Il-10 first entered service with training units in the Soviet Air Force. In January 1945, the first Il-10 combat unit entered service with the 78th Guards Assault Aviation Regiment, but it did not enter action due to unfinished training. However, three other Il-10 units managed to take part in the final combat actions of World War II in Europe. They were the 571st Assault Aviation Regiment (from 15 April 1945), the 108th Guards Assault Aviation Regiment (from 16 April 1945), and the 118th Guards Assault Aviation Regiment (on 8 May 1945). About a dozen aircraft were destroyed by flak or engine breakdowns, but the Il-10 appeared to be a successful design. One was shot down by an Fw 190 fighter, but a crew of the 118th Regiment shot down another Fw 190 and probably damaged another. On 10 May 1945, the day after the official Soviet end of the war, (Victory Day), there were 120 serviceable Il-10s in Soviet Air Force combat units, and 26 disabled ones.
After the USSR reentered the war against the Empire of Japan, with the invasion of Manchuria, from 9 August 1945, one Il-10 unit, the 26th Assault Aviation Regiment of the Pacific Navy Aviation, was used in combat in the Korean Peninsula, attacking Japanese ships in Rasin and rail transports.
After the war, until the early 1950s, the Il-10 was a basic Soviet ground attack aircraft. It was withdrawn from service in 1956. At the same time, work on new jet-powered dedicated armoured ground attack planes (like the Il-40) was canceled, and the Soviets turned to multipurpose fighter-bomber aviation. The Il-10 and its licensed variant, the Avia B-33, became a basic ground attack plane of the Warsaw Pact countries. From 1949 to 1959, the Polish Air Force used 120 Il-10s (including 24 UIl-10), and 281 B-33s. In Poland, the B-33 was modified to carry 400 l fuel tanks under its wings. From 1950 to 1960, Czechoslovakia used 86 Il-10s, including six UIl-10s, and about 600 B-33s. From 1949 to 1956, the Hungarian Air Force used 159 Il-10s and B-33s. From 1950 to 1960, the Romanian Air Force used 14 Il-10s and 156 B-33s. Bulgaria also used these aircraft.
In the late 1940s, 93 Il-10 and UIl-10s were given to North Korea. They were then used in the 57th Assault Aviation Regiment during the early phase of the Korean War. They were initially used with success against the weak anti-aircraft defense of South Korean forces, but then they suffered heavy losses in encounters against the USAAF fighters and were bombed on the ground themselves. After several weeks, about 20 remained. In the summer of 1950, North Korea received more aircraft from the USSR. The North Koreans claimed to sink a warship on 22 August 1950 with Il-10s, but it was never confirmed.
From 1950, Il-10s were used by the People's Republic of China, in two regiments of an assault aviation division. They were used in combat during a conflict with the Republic of China, (Taiwan), over border islands in January 1955. They remained in service until 1972. From 1957, Yemen used 24 B-33s.
General characteristics
Crew: 2, pilot and gunner
Length: 11.12 m (36 ft 6 in)
Wingspan: 13.40 m (44 ft)
Height: 4.10 m (13 ft 5 in)
Wing area: 30 m2 (322.9)
Empty weight: 4,675 kg (10,305 lb)
Loaded weight: 6,345 kg (14,000 lb)
Max. takeoff weight: 6,537 kg (14,410)
Powerplant: 1 × Mikulin AM-42 liquid-cooled V-12, 1,320 Kw (1,770 hp)
Performance
Maximum speed: 550 km/h at 2,700 m; 500 km/h at ground level (340 mph at 8,860 ft / 310 mph)
Range: 800 km (500 mi)
Service ceiling: 4,000 m (13,123 ft)
Wing loading: 211 kg/m2 (43.2 lb/ft2)
Armament
2 × 23 mm Nudelman-Suranov NS-23 auto cannons in wings, 150 rounds per gun
2 × 7.62 mm ShKAS machine guns in wings, 750 rounds per gun
1 × 12.7 mm UBST machine gun in the BU-9 rear gunner station, 190 rounds
Up to 600 kg (1,320 lb) of various weapons as described in the text.
Wikipedia
An exhibition of built in China industrial machinary in Shanghai, in what was once the Hall of Soviet Chinese Friendship. These are all prototypes, and are never seen in use in factories open to the western visitor. They occasionally crop up, however…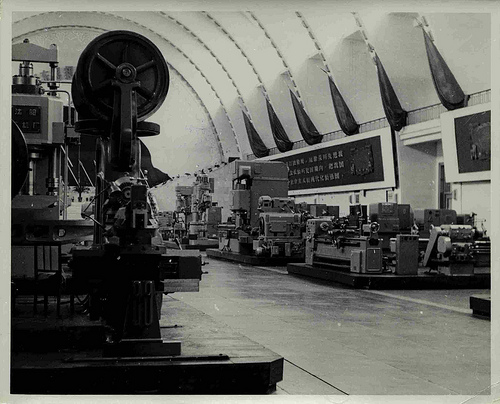 Image by Thomas Fisher Rare Book Library, UofT
Creator: Mark Gayn
Title: An exhibition of built in China industrial machinary in Shanghai, in what was once the Hall of Soviet Chinese Friendship. These are all prototypes, and are never seen in use in factories open to the western visitor. They occasionally crop up, however, in Chinese propaganda films demonstrating the nation's achievements.
Date: 1965
Extent: 1 photograph: black and white (20 x 25cm)
Notes: Title transcribed from caption
Picture shows industrial machinery made in China, in the former Hall of Soviet Chinese Friendship in Shanghai.
Format: Photograph
Rights Info: No known restrictions on access
Repository: Thomas Fisher Rare Book Library, University of Toronto, Toronto, Ontario Canada, M5S 1A5, library.utoronto.ca/fisher