A few nice prototype machining china pictures I identified:
Steven F. Udvar-Hazy Center: south hangar panorama, including Vought OS2U-3 Kingfisher seaplane, B-29 Superfortress "Enola Gay", among other folks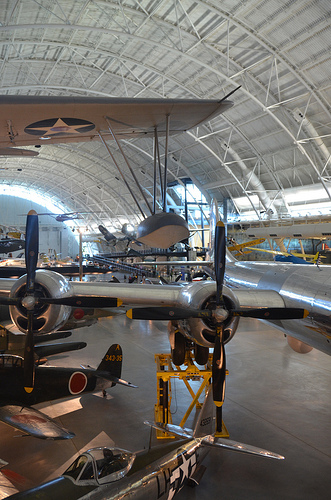 Image by Chris Devers
Quoting Smithsonian National Air and Space Museum | Vought OS2U-three Kingfisher:
The Kingfisher was the U.S. Navy's principal ship-based, scout and observation aircraft during World War II. Revolutionary spot welding methods gave it a smooth, non-buckling fuselage structure. Deflector plate flaps that hung from the wing's trailing edge and spoiler-augmented ailerons functioned like further flaps to enable slower landing speeds. Most OS2Us operated in the Pacific, exactly where they rescued numerous downed airmen, which includes Globe War I ace Eddie Rickenbacker and the crew of his B-17 Flying Fortress.
In March 1942, this airplane was assigned to the battleship USS Indiana. It later underwent a six-month overhaul in California, returned to Pearl Harbor, and rejoined the Indiana in March 1944. Lt. j.g. Rollin M. Batten Jr. was awarded the Navy Cross for generating a daring rescue in this airplane under heavy enemy fire on July 4, 1944.
Transferred from the United States Navy.
Manufacturer:
Vought-Sikorsky Aircraft Division
Date:
1937
Nation of Origin:
United States of America
Dimensions:
General: 15ft 1 1/8in. x 33ft 9 1/2in., 4122.6lb., 36ft 1 1/16in. (460 x 1030cm, 1870kg, 1100cm)
Materials:
Wings covered with fabric aft of the major spar
Physical Description:
Two-seat monoplane, deflector plate flaps hung from the trailing edge of the wing, ailerons drooped at low airspeeds to function like added flaps, spoilers.
• • • • •
Quoting Smithsonian National Air and Space Museum | Boeing B-29 Superfortress &quotEnola Gay&quot:
Boeing's B-29 Superfortress was the most sophisticated propeller-driven bomber of Globe War II and the 1st bomber to residence its crew in pressurized compartments. Although developed to fight in the European theater, the B-29 identified its niche on the other side of the globe. In the Pacific, B-29s delivered a range of aerial weapons: traditional bombs, incendiary bombs, mines, and two nuclear weapons.
On August six, 1945, this Martin-built B-29-45-MO dropped the very first atomic weapon utilised in combat on Hiroshima, Japan. 3 days later, Bockscar (on show at the U.S. Air Force Museum near Dayton, Ohio) dropped a second atomic bomb on Nagasaki, Japan. Enola Gay flew as the advance weather reconnaissance aircraft that day. A third B-29, The Fantastic Artiste, flew as an observation aircraft on both missions.
Transferred from the United States Air Force.
Manufacturer:
Boeing Aircraft Co.
Martin Co., Omaha, Nebr.
Date:
1945
Country of Origin:
United States of America
Dimensions:
All round: 900 x 3020cm, 32580kg, 4300cm (29ft six five/16in. x 99ft 1in., 71825.9lb., 141ft 15/16in.)
Components:
Polished all round aluminum finish
Physical Description:
Four-engine heavy bomber with semi-monoqoque fuselage and high-aspect ratio wings. Polished aluminum finish overall, regular late-World War II Army Air Forces insignia on wings and aft fuselage and serial number on vertical fin 509th Composite Group markings painted in black &quotEnola Gay&quot in black, block letters on lower left nose.
Steven F. Udvar-Hazy Center: Kawanishi N1K2-Ja Shiden Kai "George"


Image by Chris Devers
See a lot more images of this, and the Wikipedia report.
Specifics, quoting from Smithsonian National Air and Space Museum: Steven F. Udvar-Hazy | Kawanishi N1K2-Ja Shiden (Violet Lightning) Kai (Modified) &quotGEORGE&quot:
GEORGE is the unlikely Allied nickname for the greatest Japanese naval fighter created in quantity during Planet War II. The official Japanese name and designation was Kawanishi N1K2 Shiden (Violet Lightning). This outstanding land-based fighter sprang straight from a floatplane fighter design, the N1K1 REX (see NASM collection).
Several countries utilised floatplanes for scouting and reconnaissance duties, and to hunt submarines and surface ships, but only Japan constructed and fielded fighters on floats. The Japanese Imperial Navy intended to use these specialized aircraft to obtain air superiority above a beachhead to assistance amphibious landing operations exactly where carrier or land-based fighters have been unavailable. The Kawanishi N1K1 (Allied codename REX) was the only airplane made specifically for this goal to fly during Globe War II.
In September 1940, the Japanese Navy issued a specification for floatplane fighters capable of supporting offensive naval operations. A team of engineers such as Toshihara Baba, Shizuo Kikuhara, Hiroyuki Inoue, and Elizaburo Adachi had readied the 1st prototype by Could 1942, and it flew on Could six. Tests showed that the speed of new airplane was only slightly significantly less than the Mitsubishi A6M Zero (see NASM collection) and the amphibious fighter was almost as maneuverable as its land-based cousin. This was outstanding efficiency for an aircraft that could not retract or jettison its massive landing gear.
Lengthy before the first Kyofu flew, Kawanishi engineers believed that the standard design and style would also make an exceptional land-based fighter. The conversion appeared to entail just replacing the primary and wingtip floats with a traditional landing gear. The company decided to create this variant as a private venture. As the project unfolded, the engineers decided to replace the 14-cylinder engine with a new 18-cylinder model anticipated to create about 2,000 horsepower. The new engine required a bigger propeller and this element, in turn, required abnormally lengthy landing gear struts to prevent the blade tips from contacting the ground. Kawanishi flew the 1st N1K1-J land-based fighter on December 27, 1942. The new engine failed to deliver the expected power and the landing gear functioned poorly. The airplane also fell brief of projected speed (649 kph – 403 mph) by 74 kph (46 mph) and could handle only 575 kph (357 mph). This was more rapidly than the Mitsubishi A6M Zero ZEKE, however, and the Japanese Navy badly required an effective counter to new American naval fighter aircraft such as the Grumman F6F Hellcat and Vought F4U Corsair (see NASM collection). The Japanese Navy ordered Kawanishi to abandon two other fighter projects and start off developing Shidens.
By the finish of 1943, Kawanishi delivered about 70 of the new fighters and the Navy utilised these airplanes for pilot familiarization and instruction. Expecting Allied amphibious landings in the Philippines, the Navy sent the very first Shiden unit to Cebu in time to challenge Allied air energy supporting the invasion of that island in October 1944. Engine, landing gear, logistics, and maintenance troubles plagued the Shiden units but Allied pilots realized they faced a superb new Japanese fighter.
With N1K1-J production underway and Shidens flying combat missions, Kawanishi set about refining the design. They lowered the wings from mid-fuselage and the additional ground clearance permitted the engineers to install a shorter, more standard and less-troublesome landing gear, simplified the fuselage structure, and redesigned the empennage. Only the wings and armament remained from the initial style. The engine continued to give difficulty, but the Navy was impressed with these improvements and ordered the new version into production as the N1K2-J Shiden Kai (modified). In air-to-air combat, experienced Japanese pilots flying Shiden Kais could much more than hold their personal against most American pilots flying F6F Hellcats. In February 1945, a brave pilot, Warrant Officer Muto, single-handedly engaged 12 Hellcats and shot down four of them prior to the remainder disengaged. Flying intercept missions against Boeing B-29 Superfortresses above the house islands, the Shiden Kai was less profitable simply because of inadequate climb speed and energy loss at high altitudes.
Kawanishi developed several other variants and planned far more when the war ended. About 1,500 of the various models have been created. In battle more than Formosa (Taiwan), the Philippines, Okinawa, and the house islands, Shiden pilots acquitted themselves properly but this exceptional airplane was another excellent design that appeared as well late and in too couple of numbers to reverse Japan's fortunes in the air war.
NASM's Shiden Kai is 1 of 3 remaining today. The other two are displayed at the U. S. Air Force Museum in Dayton, Ohio, and the New England Air Museum in Windsor Locks, Connecticut. American intelligence units collected 4 GEORGE fighters from a variety of Japanese airfields and delivered them to Yokosuka Naval Shipyard for shipment to the United States. The NASM GEORGE came from Omura or Oppama Naval Air Station, Japan, and the fighter arrived stateside aboard the escort carrier &quotUSS Barnes.&quot It was probably evaluated at the Naval Aircraft Factory at Philadelphia, and then moved to Willow Grove Naval Air Station. The GEORGE remained outdoors on display and steadily deteriorated along with a group of German and Japanese airplanes till 1983 when the Smithsonian Institution acquired it. The airplane was stored at the Paul Garber Facility until NASM loaned it to the Champlin Fighter Museum in Mesa, Arizona, for restoration in December 1991 and the project was completed in November 1994. The restored Shiden Kai wears the colors and markings of the 343rd Kokutai, a unit stationed at Omura Naval Air Station in 1945.
Transferred from the United States Navy.
Manufacturer:
Kawanishi Kokuki K. K.
Date:
1942
Country of Origin:
Japan
Dimensions:
General: 400 x 930cm, 2675kg, 1200cm (13ft 1 1/2in. x 30ft six 1/8in., 5897.3lb., 39ft four 7/16in.)
Materials:
All-metal monocoque building
Physical Description:
Single-engine, low-wing monoplane, standard layout with tailwheel landing gear.